About the restaurant
Stéphane and Sylvie Bloyet welcome you with pleasure!
Standing at the foot of the Gorges du Durnand natural site, five minutes from Martigny, the restaurant quite naturally adopted the same name. And the parallels don't end there, since at the Gorges du Durnand Restaurant, in a dynamic and friendly atmosphere, we serve regional cuisine that's as fresh and spectacular as the torrent cascading down the gorge.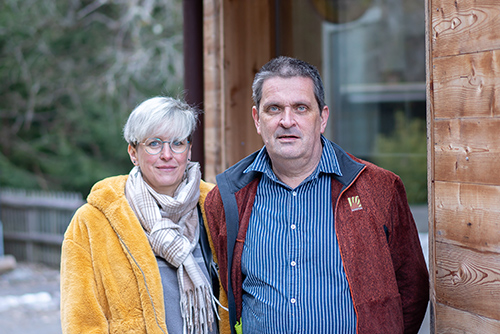 Open all year round
As well as a natural site to visit, the Gorges du Durnand is also a restaurant to discover from February to December.
Local flavour and house specials
Come and try the local, seasonal flavours served by our chef, tuck into the house special – the 'Fondue des Gorges' – and when autumn arrives, don't miss the game menu… A treat for the tastebuds and a feast for the eyes!
Banquet room
If you need a private venue for a group outing or family meal, look no further than our banquet room, which seats 20 to 40 people. Don't hesitate to enquire about our tailor-made menus.
Our favourites
Whether before or after you visit the gorge, our restaurant is the perfect place to take a break, with something for every budget on the menu. The fondue always brings a smile to people's faces!
Other picks include the chef's perch, steak tartare and meat slates.
Autumn is game season! And for groups, our speciality, Fondue des Gorges, or tailor-made menus for every budget.
Monday : 9 am to 6 pm
Tuesday : 9 am to 6 pm
Wednesday : 9 am to 6 pm
Thursday : 9 am to 9 pm
Friday : 9 am to 11 pm
Saturday : 9 am to 11 pm
Sunday : 9 am to 6 pm